CSDA Competition Team Information 2023-2024
Training and Teamwork … Feedback and Fun! The CSDA Competition Team Approach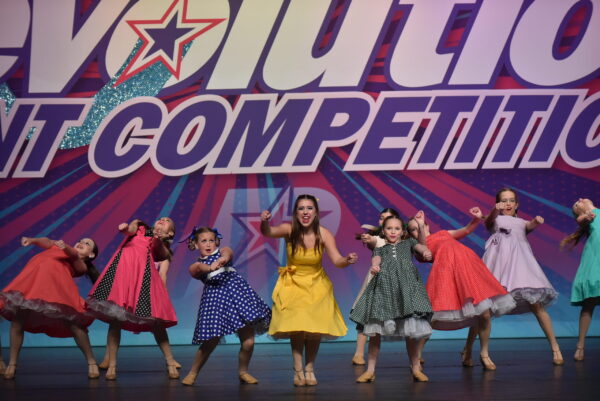 Does your dancer want to take it to the next level and enjoy a healthy competitive dance experience? CSDA offers the opportunity for students of all genders, aged 8-18 to train and participate in a competition team. As with all of CSDA's programs, dance education comes first and foremost. Our competition teams consistently place at a Platinum and High Gold overall level, earning Highest Score, First Overall, Choreography Awards and Judges' Choice Awards. This is not a high-pressure, reality tv show-like experience–our training and team approach is challenging yet manageable and leads to a sense of development and teamwork.
Competitions offer an excellent opportunity for students to perform more and at a prestigious level, with a myriad of dancers that come from around the nation, with a larger audience. Competitions are exciting and fun! Evaluations and critiques from dance leaders around the country at competitions are invaluable.  We are so grateful to share with our students our passion for the universal language that is dance, whether it be rehearsing for our next competition, or jamming at the team sleepover. We love to see our teams grow up together and make such special lifelong friendships. 
Teams (ranges may vary, based on a combination of age and skill level)
Company C: 6-7 (if interested in being in production, it's a great opportunity to perform and grow)
Company S: Ages 8-12
Company D: Ages 13-16
Company A: Ages 17-18
2023-2024 Competitions – TBD –  The current team has asked for more competitions. We are now considering 4-5 competitions this year.
What are the Competition Team requirements?  
Competition Team students must be enrolled for the following classes at CSDA and attend all classes and participate in all competitions and performances as well the end-of-year recital, unless ill, injured or in case of family emergency:
Ages 6-7:

1 Jazz/Tap class, Hip-Hop class or Musical Theater class, and 1 Classical Ballet class. No audition necessary. EMAIL IF INTERESTED. Dancers will be invited upon class assessment during summer camp or the first two weeks of semester 1.

2 hrs/week minimum
Ages 8-10:

1 Jazz/Tap class, 2 Classical Ballet classes, 1 Company class, 1 Musical Theatre class, 1 Acro class. Lyrical class (Applicable only if age 10+) and Hip-Hop (any level) class are optional, but highly encouraged.

 
6 hrs/week minimum
Ages 11-12:

1 Jazz/Tap class, 2 Classical Ballet classes, 1 Company class, 1 Musical Theatre class, 1 Acro class. MUST CHOOSE ONE ELECTIVE (but enrollment in both are highly encouraged); Hip-Hop and/or Lyrical.
7 hrs/week minimum
Ages 13-15: 1 Jazz class, 1 Tap class, 1 Musical Theatre class, 2 Classical Ballet classes, 1 Company class. MUST CHOOSE ONE EXTRA TECHNIQUE CLASS (Enrollment for both is highly encouraged); Modern and/or Contemporary. We list the electives here as most of these dancers choose to take either one, or both in addition, but it is NOT REQUIRED: Hip-Hop, Lyrical and Acro (if eligible, check eligibility on class schedule) 
9 hrs/week minimum
Ages 16-18: 1 Jazz class, 1 Tap class, 1 Musical Theatre class, 2 Classical Ballet classes, 1 Company class, 1 Modern class, 1 Contemporary class, 1 Hip-Hop class and 1 Lyrical class. Private lessons are strongly encouraged, but NOT REQUIRED.
12 hrs/week minimum
How Do the Competition Teams Prepare for the Competition Year?
Competition team members are asked to participate in a one-week Company Intensive during the summer, in which the students work on all new choreography for the upcoming competition year and receive technical training in all forms of dance.  
Required Intensive: Schedules and Fees for 2023-2024*
Wednesday June 21st-Sunday June 25th
Company A – 11am-3pm. Fee* $600
Already accepted to a CSDA competition team? Please bring a check or cash or mail a check for your child's company's intensive fee by June 1 (noted above) to Candace Sheppard or CSDA and need to be mailed to 4000 Massachusetts Ave., Apt. 1130, Washington, DC 20016. Thank you and we're looking forward to a great dance season!
What are the Competition Team Attire/Costume Requirements?
Competition students will be required to have the class and competition team attire and costumes for the choreographed piece(s) for which they are chosen. Company S students typically perform in one or two dances at competitions and require only one or two costumes. Company D  will perform/compete in more than one dance requiring a minimum of one costume and Company A will perform/compete in more than one dance requiring a minimum of one costume.
How Many Competitions Do Students Participate In?
CSDA realizes that the students and families cannot commit to constant competition weekends. Family and school come first. Therefore, we have a meeting at the start of Semester One in which the coaches and parents decide on which competitions and dates work for the team as a whole. We typically choose between 4-5 competitions/year. Competition season begins in January, so depending on our selections, your child would compete 4-5 times from January-May, less than one competition/month. The competitions are fun and educational for everyone!  
Important Information for 2023-2024 Competition Team Families:
Preparation
Please block out the entire weekend of a competition

. 

We won't know the schedule until one week before the competition.

Call time is one and one half hour prior to stage/competition time

.

All dancers must be in full performance hair, make-up and costume including accessories as well as fully stretched, hydrated and ready to take the stage. Competition schedules frequently run early and there are no "re-do" opportunities on competition day, if our scheduled time slot is missed.

Only the director and designated faculty are authorized to direct the students at competitions, rehearsals and recitals.
Parents: To avoid unnecessary stress and make competitions a fun experience for your child, be prepared.

Make sure all costume pieces, accessories, hairstyling tools and items, clean tights and dance shoes are ready and nail polish and personal jewelry are removed. Remember a pair of backup tights in the dance bag is a necessity.

If your dancer is getting ready onsite, then plan to arrive at least an hour earlier than your call time

.

Remember, call time means being fully ready to perform, not arrival time.
Company Class Attendance and Awards Ceremony Participation
There is a three-strikes-you're-out policy for unexcused company class absences this year. The students work very hard and cannot be in unison, know choreography and be prepared for partnering, lifts, restaging or anything else,when they or their teammates are not at their company classes/rehearsals. 
An excused absence is for sickness, important family obligations (wedding, reunion, funeral, graduation, religious holiday, etc.) and required school events (concert performance, field trip, etc). Absences for social engagements count as unexcused. 
If your child is sick, they should not attend class for their and their classmates' health. If your child is injured yet able to make it to the studio, they should observe class to stay up-to-date with choreography and corrections. We need to keep everyone healthy and safe and appreciate your cooperation! 
All dancers are required and parents are asked to stay for the competition awards ceremonies. 
Annual Competition Membership Fee – $300.00
This will include 1 competition team jacket and 1 pair of sweat/track pants (approximately $200.00 value). This helps defray the cost of  selecting, sizing, ordering  and distributing costumes.  Selecting music, editing, mixing, cutting and uploading music.  Sharing the music and videos with the team.   Administrative work such as registering all competition team members, duets and soloists for competitions, sending schedules, sending hair and make-up information, checking our team in at competitions and reviewing adjudicated scores and critiques as well as media.  Selecting and ordering props.  (props will need to be assembled or made by teammates or volunteers).  Props may vary and are not included in fees. 
Costume and Competition Fees (estimated–subject to change – based on 4- competitions and 2 dances per competition)  5 competitions can be estimated by the calculations below adding an additional competition.
Company C: One routine/costume $100.
Competition fees $100.
One entry fee x4=$400 
Total- $500 
Company S: Two routines/costumes  $150/2 costumes = $300.00. Competition fees $100.00 each entry-$200.00 x4 = $800.  Total-$1400.00 .  Alternates may require one less costume, TBD.
Company D: Two routines/costumes  $150/2 costumes = $300.00. Competition fees $100,00 each entry-$200.00 x4 = $800.  Total-$1400.00 
Company A:  Three routines/costumes  $150.00/3 costumes= $450.00.  Competition fees  $100.00 each entry-$300.00  x4 = $1200.  Total-$1650.00
Soloists and Duets (selected by studio faculty): 1 costume per dance $150.00. Competition fees $175.00 each entry-$175.00 x 4 =$700.00.  Flat fee for choreography and one-hour initial private lesson @$225.00.  Total-$1075.00
*In addition, weekly private lessons are required at $50/half hour, invoiced each month*
Questions? Contact Candace Sheppard at cshepparddanceacademy@gmail.com or 301-996-0680